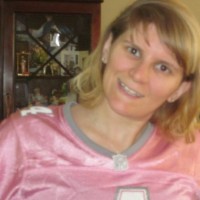 Stephanie Dolce
Love, Romance
I write about dating, relationships, and give advice on my blog
and for Rant Dating as well as Blogher.
I have written 5 books: two are fiction; one dedicated to teaching young people about cyber bullying, and the other is for mature young adults. One book is dedicated to dating and relationships, while the other two discuss social media, with a personal take on being bullied...
I have 2 more books coming out.
"Hello Love, Where's Cupid" 2nd edition and "Untouched," which is my fiction novel will be out in the summer of 2015
I have been in the education field for over sixteen years
I am the Arts Teacher / Director of a half-day summer's camp that serves K-5.
I have cheered, danced, choreographed since I was seven. I have been part of the cheer / dance community as a coach / choreographer for also fifteen years.
I was a victim of cyber bullying, I am the founder of Strike Out Bullying, where I reach out to those in my community and those around the world to not only fight to help change laws to protect victims, but to help them fight back against their attackers and to make them see that suicide is never the answer.
What is the virtue and service of a book? Only to help me live less gingerly and shabbily.
Christopher Morley